PocketPC
Software
apReminder+
Version 1.1a
About
This small program enhances a standard PocketPC's Reminder feature. With apReminder+ you can have a reminder sound repeating every several seconds until you close the Reminder dialog, or it can be snoozed automatically after some time.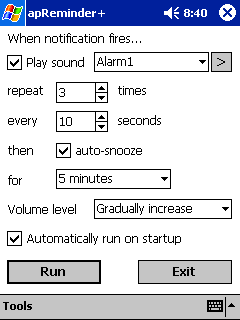 What's New in Version 1.1
apReminder+ can now use its own sound volume settings including escalating volume (optional)
Play button to pre-listen the chosen sound
The only EXE for all OS languages
June 14, 2004: The latest update to version 1.1a adds support for Italian interface.
Download
apReminderPlus11a_arm.zip - ARM processor (PPC2002/WM2003 devices with StrongARM, XScale, Samsung, TI...)
apReminderPlus11a_mips.zip - MIPS processor (old Cassiopeia PocketPCs)
apReminderPlus11a_sh3.zip - SH3 processor (old Jornada PocketPCs)
Instructions
Unzip apReminderPlus.exe file to a temporary folder on your PC
Connect your PocketPC to the PC
Open MS ActiveSync
Press Explore button on the toolbar - it opens Mobile Device window
Open My PocketPC, then Program Files
Drag and drop apReminderPlus.exe from your PC to Program Files folder on the device
Run File Explorer on the device
Go to Program Files folder and start apReminderPlus there
Set the parameters in the main dialog and press Run button. Application will be running in the background and handle Reminder dialogs according to the settings. If you set Automatically run on startup option, the program will start automatically every time you do a soft reset.
To stop the program execute apReminderPlus.exe again and press Exit button in the dialog.
Notes
apReminder+ was designed for PocketPC 2002 and Windows Mobile 2003, though most of the functionality should also work on PocketPC 2000. There is no guarantee the utility will work on Windows Mobile 5. There are at least two known issues: square screens are not supported, and Auto Snooze feature doesn't work on WM5.
Please note the program is OS language specific, and currently customized only for the following interface languages: English, French, German, Italian, Russian, Spanish.